Female Thread Gate Valve
Screwed 、Clamp 、Welded vavle
The stainless steel female thread gate valve of Anix has good sealing performance and long service life. The sealing faces are not easy to be worn or scratched. At the moment of opening and closing, the stroke of the valve flap is small, and thus the opening and closing time is short. The valve is processed by advanced foreign process, small in height, simple in structure, elegant in appearance and easily manufactured and maintained. It is precisely cast using silica sol and has stainless steel valve body and bonnet, suitable for water, oil products, steam, gas and some types of corrosive liquid.
Download >

Need to see more product information or to request high-quality print copy please contact us
Contact us
Product Detail
Design standards
Design standard: ASME B16.34
Connecting standard: ASBE M20.11(NPT), DIN2999& BS21, ISO228/1& ISO7/1
Test and inspection: API 598
Product Structure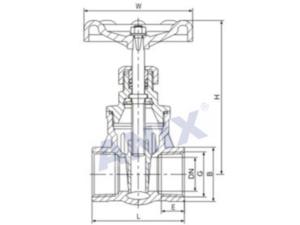 Online inquiry
Welcome to our website! Please feel free to send us your questions by asking us, we will contact you and provide you with the services as soon as possible. Please write in English.