High performance DIN and GB filter
Filter(flanged,welded)
The Y shaped filter of Anix is an indispensable device for a media conveying pipe system. It is usually installed at the inlets of hydraulic control valves or other equipments to remove particle impurities from the media to maintain normal operation of the valves or equipments. The Y shaped filter screen is of double layer stainless steel structure, sturdy and durable. With the features of advanced structure, small flow resistance and convenient blowdown, etc., it can be used for many types of media, such as water, steam, oil products, nitric acid, urea and oxidants. The number of meshes of the filter screen shall be determined based on the requirements of the users, usually 18-30 for water screens, 40-100 for gas screens, and 100-480 for oil screens. Furthermore, the Y shaped filter can be combined with expansion joints to form a Y shaped drawbar extension filter.
Download >

Need to see more product information or to request high-quality print copy please contact us
Contact us
Product Detail
Design standards
Flange end:GB/T 9113,JB/T 79,HG/T 20529,EN 1092
Test standards:GB/T 13927,API 598
Performance Specification
Nominal pressure:PN1.6,2.5MPa
Strength testing pressure:PT2.4,3.8MPa
Applicable media:SY41-(16-25)C

Water.Oil. Gas
Applicable temperature:-29~425°C
Applicable media:SY41-(16-25)P

Nitric acid
SY41-(16-25)R

Acetic acid
Applicable temperature:-40~425°C
Product Structure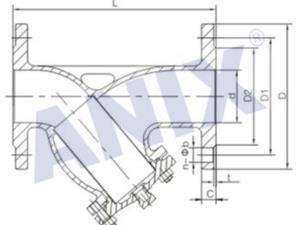 Online inquiry
Welcome to our website! Please feel free to send us your questions by asking us, we will contact you and provide you with the services as soon as possible. Please write in English.