High performance antibiotic globe valve
Globe valve(flanged, welded)
globe valve of Anix is simple in structure and easily manufactured and maintained. The valve has small working stroke, short opening and closing time, good sealing performance, small friction on the sealing faces and long service life, suitable to be used for cutting off, regulating or throttling the media. The valve has relatively short opening or closing stroke of the valve rod and very reliable cutoff action. The valve seat and the flap are easy to be repaired; during replacement of the sealing components, there is no need to dismantle the whole valve from the pipes.
Download >

Need to see more product information or to request high-quality print copy please contact us
Contact us
Product Detail
Design standards
Design and manufacture as GB/T 12235、DIN 3356
Face to face dimensions asGB/T 12221、DIN 3202
End flange dimension as JB/T 79、DIN 2543
Pressure test as GB/T 26480、DIN 3230
Performance Specification
Nominal pressure:1.6,2.5,4.0,6.3MPa
Strength test:2.4,3.8,6.0,9.5MPa
Seal tese:1.8,2.8,4.4,7.0MPa
Gas seal test:0.6MPa
Valve body material:WCB(C),CF8(P),CF3(PL),CF8M(R),CF3M(RL)
Suitable medium:water,steam,oil,products,nitric
Suitable temperature:-29°C~425°C
Product Structure
---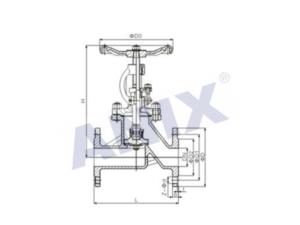 Online inquiry
Welcome to our website! Please feel free to send us your questions by asking us, we will contact you and provide you with the services as soon as possible. Please write in English.