High performance electric bellows globe valve
Globe valve(flanged, welded)
Download >

Need to see more product information or to request high-quality print copy please contact us
Contact us
Product Detail
Design standards
Design &Manufacture as per:
GB/T 12234、BS 1873
Face to face dimension as per:
GB/T 12221、ASME B16.10
Connection ends dimension as per:
JB/T 79、HG/T 20592、ASME B16.5
Inspection and test as per:
GB/T 79、API 598
Performance Specification
Nominal pressure:
1.6,2.5,4.0,6.3Mpa
Strength test:
2.4,3.8,6.0,9.5
Mpa
Seal test:
1.8,2.8,4.4,7.0
Mpa
Gas seal test: 0.6Mpa
Valve body matenial:WCB(C),CF8(P),CF3(PL),
CF8M(R),CF3M(RL)
Suitable medium: water, steam, oil products,
nitric acid, acetic acid
Suitable temperature: -29℃~425℃
Product Structure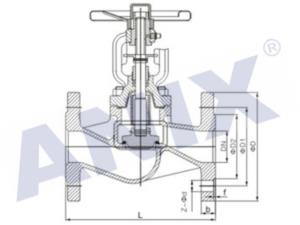 Online inquiry
Welcome to our website! Please feel free to send us your questions by asking us, we will contact you and provide you with the services as soon as possible. Please write in English.