high platform Tee ball valve
Ball valve(flanged,wafer)
There are two types of tee ball valves, L shaped and T shaped types.
The L shaped (Q44F) tee ball valve is used for switching the flow direction of the media and can get two channels vertical to each other interconnected; the T shaped (Q45F) tee ball valve is used for diverting and converging the media and switching the flow direction.
The T shaped tee can get all the three or two of the three channels interconnected with each other. Usually, the tee ball valve is of two-seat structure; four-seat structure can also be used upon request by the users.
Download >

Need to see more product information or to request high-quality print copy please contact us
Contact us
Product Detail
Design standards
Design Reference: GB, ASME
Design Standard: GB/T 12237, ASME B16.34
Face to Face: GB/T 12221, ASME B16.10
Flanged Ends:GB/T 9113 JB 79, ASME B16.5
Test and Inspection:GB/T 26480, API 598
Performance Specification
Nominal pressure:

1.6Mpa,150lb
Strength test:

2.4,3.0

MPa
Seal tese:

1.8,2.2

MPa
Gas seal test:0.6MPa
Valve body material:A105(C),F304(P),F304(PL),F316(R),F316L(RL)
Suitable medium:water,steam,oil,products,nitric
Suitable temperature:-29°C~150°C
Product Structure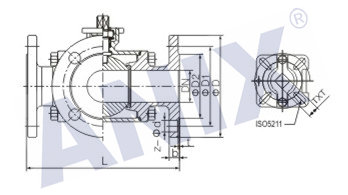 Online inquiry
Welcome to our website! Please feel free to send us your questions by asking us, we will contact you and provide you with the services as soon as possible. Please write in English.