Stainless steel Angle seat valve
Screwed 、Clamp 、Welded vavle
Download >

Need to see more product information or to request high-quality print copy please contact us
Contact us
Product Detail
Design standards
Design and manufacture as:GB/T 12235、ASME B16.34
End flange dmension as:JB/T 79、ASME B16.5、JIS B2220
The thread ends conform to:ISO7-1、ISO 228-1etc.
The butt weld ends conform to:GB/T 12224、ASME B16.25
Clamp ends conform to:ISO、DIN、IDF
Pressure test as:GB/T 13927、API598
Performance Specification
Nominal pressure:0.6-1.6MPa,150LB,10K
Strength test:PNx1.5MPa
Seal tese:PNx1.1MPa

Gas seal test:0.6MPa
Valve body material:CF8(P),CF3(PL),CF8M(R),CF3M(RL)
Suitable medium:water,steam,oil,products,nitric
Suitable temperature:-29°C-150°C
Product Structure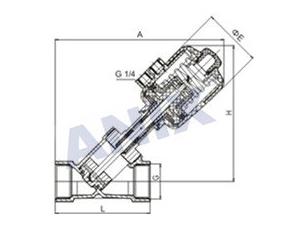 Online inquiry
Welcome to our website! Please feel free to send us your questions by asking us, we will contact you and provide you with the services as soon as possible. Please write in English.