ANSI Forged Steel Check Valve
Check valve( flanged,wafer )
The American standard forged steel check valve of Anix has hard alloy welded on the guide rib by buildup welding. The guide sleeve of the upper cavity of the valve body is made of stainless steel to ensure smooth action of the valve flap; the valve flap and valve seat sealing faces are made of cobalt based hard alloy by plasma spray welding, and are thus high in hardness, erosion resistant and durable. With advanced pressure seal design and high purity graphite ring gasket, the valve is highly airtight. The middle cavity of the valve is of pressure self tightening seal structure; the higher the pressure in the cavity, the better the sealing performance is. The valve flap rotates along the pin outside of the valve seat to reduce impact at the moment of closing.
Download >

Need to see more product information or to request high-quality print copy please contact us
Contact us
Product Detail
Design standards
Design & Manufacture as per BS 5352, ASME B16.34
Connection ends dimension as per ASME B16.11
Inspection and test as per API 598
Performance Specification
Nominal pressure:150~1500LB
Strength test:15XPN MPa
Seal tese:1.1XPN MPa
Gas seal test:0.6MPa
Valve body material:A105(C),F304(P),F304(PL),F316(R),F316L(RL)
Suitable medium:water,steam,oil,products,nitric
Suitable temperature:-29°C~425°C
Product Structure
---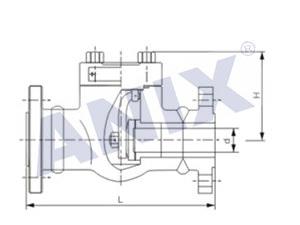 Online inquiry
Welcome to our website! Please feel free to send us your questions by asking us, we will contact you and provide you with the services as soon as possible. Please write in English.