High performance Pneumatic thread ball Valve
Ball valve(flanged,wafer)
The pneumatic valve of Anix is under remote intelligent control. The actuator has double action type and single action type (spring reset) with gear and rack transmission, safe and reliable; in case of large diameter, the pneumatic actuator has double action type and single action type with fork type transmission, reasonable in structure and large in output torque.

1. Gear type double pistons are provided with large output moment and small volume;

2. The gas cylinder is made of aluminum gold material, light in weight and elegant in appearance;

3. Manual operation mechanism can be installed on the top and at the bottom;

4. With rack type connection, the opening angle and the rated flow can be adjusted;

5. The actuator can be equipped with electric signal feedback indications and various accessories to realize automatic operation.

6. IS05211 standard connection makes it convenient for installation and replacement of the product;

7. Screws adjustable at two ends provide a regulating range of ±4° to the standard product within 0° and 90° to ensure the synchronization precision with the valve;

Cutoff type accessories: single electric control solenoid valve, double electric control solenoid valve and limit switch;

Gas source treatment accessories: air filtering and pressure relief valve, and gas source treatment triplex.
Download >

Need to see more product information or to request high-quality print copy please contact us
Contact us
Product Detail
Performance Specification
Nominal pressure:PN1.6-6.4
Strength testing pressure:PT1.5PN
Seat testing pressure(low pressure):0.6MPa
Applicsble media:Q611F-(16-64)C Water.Oil. Gas
Applicsble temperature:-29~150°C
Applicsble media:Q611F-(16-64)P Nitric acid
Q611F-(16-64)R Acetic acid
Applicsble temperature:-40~150°C
Product Structure
---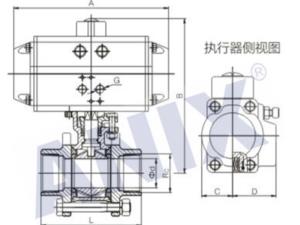 Online inquiry
Welcome to our website! Please feel free to send us your questions by asking us, we will contact you and provide you with the services as soon as possible. Please write in English.