Three Piece Female Thread Ball Valve 1000WOG
Screwed 、Clamp 、Welded vavle
The three piece female thread connecting ball valve of Anix has the valve body cast using advanced process introduced from Taiwan, reasonable in structure and elegant in appearance; the valve seat is of elastic seal structure, reliably sealed and easily opened and closed; the valve rod is of bottom mounting structure with back seal, and will not fly out in case of abnormal pressure rise inside the valve cavity. The valve can be equipped with ISO standard support platform, locking device, and 90° switch locating mechanism. The valve can thus be locked as required to prevent accidental operations. There are three drive modes, manual, electric and pneumatic modes.
Download >

Need to see more product information or to request high-quality print copy please contact us
Contact us
Product Detail
Design standards
Design Standard:ASME B16.34
Face to Face:DIN3202-M3
End Connections:ASME B1.20.1(NPT)、DIN2999&BS21、ISO228/1&ISO7/1
Test and Inspection:API
Product Structure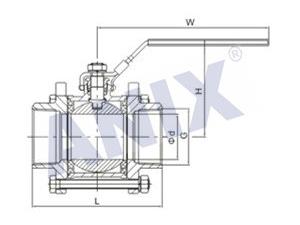 Online inquiry
Welcome to our website! Please feel free to send us your questions by asking us, we will contact you and provide you with the services as soon as possible. Please write in English.