High performance DIN ,GB electric gate valve
Gate valve(flanged, welded)
The national standard and German standard gate valves of Anix have reliable sealing, good performance and elegant appearance, in accordance with advanced national and international standards. The gate plates and the valve seats are wearing, high temperature and corrosion resistant, and have good scratch resistant performance and long service life. Wedge type elastic gate plate structure is used; roller bearings are provided for medium and large diameters to realize easy opening and closing; the valve rods are subject to tempering and surface nitrogen treatment and thus have good corrosion resistant and scratch resistant performance. Different pipe flange standards and flange sealing face types can be used to meet the requirements of different projects and users. There are a complete range of materials to be used for the valve bodies, and the packing and gaskets can be selected according to the actual working conditions or the requirements of the users. The valves are thus applicable to different working conditions with various pressure, temperature and media.
Download >

Need to see more product information or to request high-quality print copy please contact us
Contact us
Product Detail
Design standards
Design and manufacture: GB/T 12234, DIN 3352
Structural length: GB/T 12221, DIN3202
Flange connecting size: JB/T 79, DIN 2543
Inspection: JB/T 9092, DIN 3230
Performance Specification
Nominal pressure: 1.6, 2.5, 4.0, 6.3Mpa
Strength test: 2.4, 3.75, 6.0, 9.45Mpa
Seal test: 1.76, 2.75, 4.4, 6.93Mpa
Back seal test: 1.76, 2.75, 4.4, 6.93Mpa
Gas seal test: 0.6Mpa
Valve body material: WCB(C), CF8(P), CF3(PL), CF8M(R), CF3M(RL)
Applicable media: water, steam, oil products, nitric acids and acetic acids
Applicable temperature: -29℃ to 180℃
Product Structure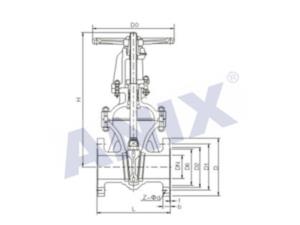 Online inquiry
Welcome to our website! Please feel free to send us your questions by asking us, we will contact you and provide you with the services as soon as possible. Please write in English.