High performance pneumatic knife gate valve
Gate valve(flanged, welded)
Download >

Need to see more product information or to request high-quality print copy please contact us
Contact us
Product Detail
Design standards
Design & Manufacture as per:

JB/T8691、MSS SP-81
Face to face dimension as per:

GB/T 15188.2、TAPPI TIS 405.8
Connection ends dimension as per:
JB/T 79、ANSIB16.5、JIS B2220
Inspection and test as per:

GB/T 13927、MSS SP-81、JB/T8691
Performance Specification
Nominal pressure:

0.6.1.0.1.6MPa
Strength test:

0.9.1.5.2.4MPa
Seal tese:

0.7.1.1.1.8MPa
Gas seal test:0.6MPa
Valve body material:

WCB(C),CF8(P),CF3(PL),CF8M(R),CF3M(RL)
Suitable medium:Mortar mixture、Dtegs with、water proportion
Suitable temperature

:-29°C~100°C
Product Structure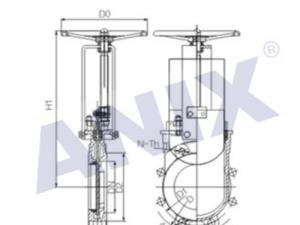 Online inquiry
Welcome to our website! Please feel free to send us your questions by asking us, we will contact you and provide you with the services as soon as possible. Please write in English.