fully-welded ball valve
Ball valve(flanged,wafer)
Fully-welded ball valve is divided into butt weld (BW) and socket weld (SW) types 。
1. the valve seat is designed to be of double lip seal structure to enhance sealing and reduce the operation torque; the valve seat can be made of various materials, suitable for more areas;
2. the valve rod is designed to be of explosion proof structure and bottom mounting type to prevent flying out under pressure; PTFE guide is also used to reduce friction on the valve rod and reduce the operation torque;
3. the valve is designed to be of fireproof and anti-static structure; it can also be customized according to the requirements of the clients or the working conditions.
Download >

Need to see more product information or to request high-quality print copy please contact us
Contact us
Product Detail
Design standards
Design standsrds:GB/T 12237/ API6D/API608
Structure length:GB/T12221,API6D,ASME B16.10
Connrction flange:JB79,GB/T 9113.1,ASME B16.5,B16.47
Welding end:GB/T 1222,ASME B16.25
Test and inspection:GB/T 13927,API6D,API 598
Performance Specification
Nominal pressure:PN16,PN25,PN40,150,300LB
Strength test:PT2.4,3.8,6.0,3.0,7.5MPA
Seal test:1.8,2.8,4.4,2.2,5.5MPA
Gas seal test:0.6MPa
The valve main material:A105(C),F034(P),F316(R)
Suitable medium:the lonq-distance pipeline for,natural gas, petroleum,heating and thermal power pipe net.
Suitable temperature:-29°C~150°C
Product Structure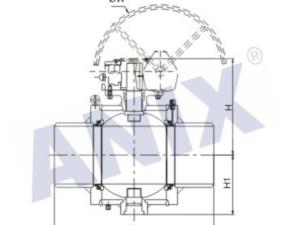 Online inquiry
Welcome to our website! Please feel free to send us your questions by asking us, we will contact you and provide you with the services as soon as possible. Please write in English.